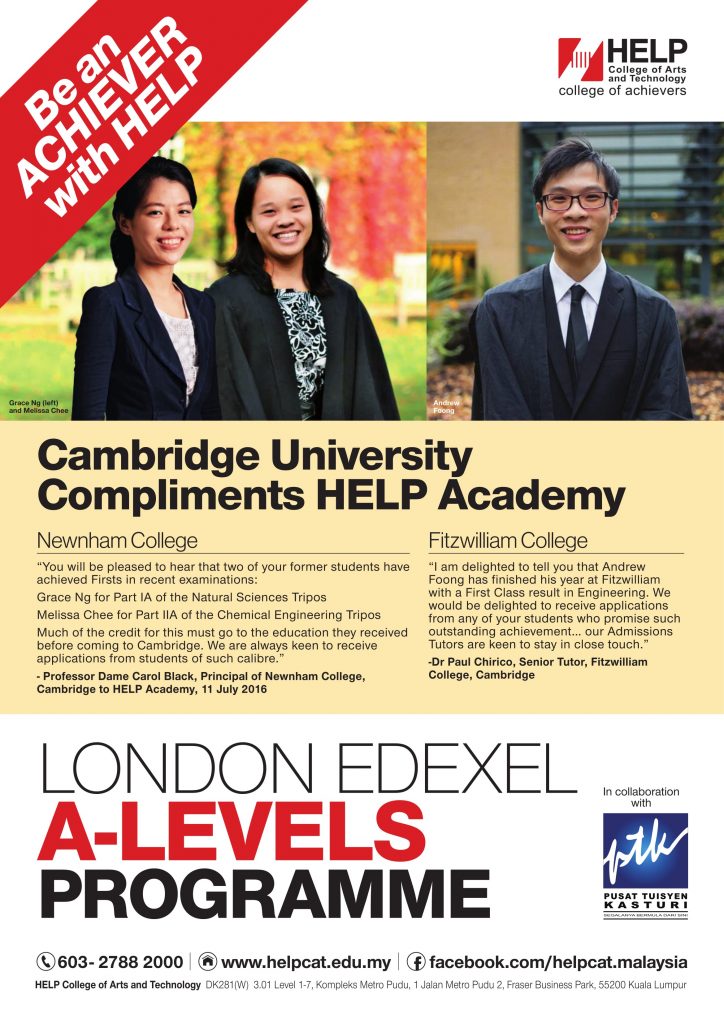 A LEVELS with KASTURI – HELP ACADEMY
Great News! All KASTURI SPM leavers can now have access to High Quality A Levels Education. Both educational giants, i.e. Kasturi Academia and HELP Academy has joined forces to provide the BEST teaching faculty with state-of-the-art learning environment. All classes and lab sessions will be conducted at HELP Academy located at Jalan Metro Pudu 1, Fraser's Park, Kuala Lumpur.
Both institutions' experience in education dates back more than 30 years ago. Students joining the intended first cohort in Jan 2017 will receive a SPECIAL Launching Bursary of 30% off the tuition fee. Kasturi-HELP A Levels tuition fee is only RM18, 000 (before 30%). This makes it one of the most affordable A Levels in town. Why wait? Call us at Kasturi 03- 2024 0000 (Ms Pak) or emai us at info@ptk.edu.my for registrations.
Why KASTURI – HELP ACADEMY A LEVELS?
HELP successfully nurtured a total of 18 A-Level students for admission to top medical schools in Malaysia, the UK and Ireland in 2016, including 3 to Trinity College Dublin.
Leow Tjun Wei, Celeste Chew Sze Ting and Yeow Yen Ting (below) were accepted into Trinity College Dublin, Ireland for medicine.
Celeste Chew Sze Ting Leow Tjun Wei Yeow Yen Ting
HELP has again broken the glass ceiling with its latest A-level results for the two examination boards, Edexcel and Cambridge. With more than 50% students achieving A's, HELP's outstanding results are a reflection of their hard work and dedication in pursuing their studies.
It was indeed a double celebration for HELP when 6 of their top A level achievers also gained entry into Penang Medical College's September 2016 intake. They will undertake their clinical years in Dublin, Ireland for two and half years and return to Penang to complete their medical training for the same time period.
They met the entry requirements to pursue medicine as a degree in University College Dublin (UCD) & Royal College of Surgeons Ireland (RCSI) respectively. At their pre-departure briefing, the VIP guest was none other than the Irish Ambassador to Malaysia, His Excellency Eamon Hickey, who greeted HELP students and staff and congratulated the students on their success.